About Shoot-out and Shootaround Contest
COVID sucks and we are not allowed to organize games at this time, BUT HERE is a great way to get some shots up, work up a sweat, and actually be COMPETITIVE while social distancing.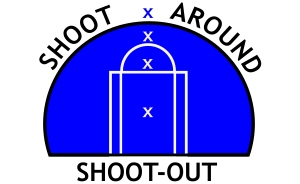 PSBL SHOOTAROUND & SHOOT-OUT CONTEST:
# OF PLAYERS: 5-6
MAX COST: $15
LENGTH: 1 hour
LOCATION: PSBL-SODO
RULES:
SHOOTAROUND: Each player gets to "shootaround" at their own basket in the gym for 45 minutes at their leisure. No competition is allowed. So no 1 on 1, or 2 on 2, etc.
SHOOT-OUT: During the same hour each player will compete in TWO, 2 minute Shootouts. PSBL will designate 4 shots with different points. Player will rebound their own ball while PSBL records your total score. Player with the highest score wins the SHOOT-OUT.
AGES:Shootouts are open to all ages, young and old. Youth and High school age kids are encouraged to sign up. Adults in their prime or past their prime can sign up.
SKILL LEVELS: We will designate each hour as: Competitive or Recreational (although this is just a guide, not a major hurdle) PRIZES: We will give away a small prize for the winner of each SHOOTOUT:
1 win: T-shirt
2 wins: Free SHOOT-OUT Entry
3 wins: Free PSBL jersey
4 wins: Free PSBL pullover
5 wins: Free PSBL Sweatshirt
COVID PROTOCOLS: Each participant will need to complete a COVID health waiver and have their temperature checked upon entry. Players must also bring their own ball.