PSBL is the state of Washington's Largest Recreational Basketball League.
Puget Sound Basketball/ Corona Virus Statement: **Update 1/11/2021**
PSBL has restarted our Shoot-out and Shootaround Trainings each day of the week. Check the Hoops on Demand Calendar (HOD) for more info. Please Wash your hands!
PSBL is anxiously awaiting Governor Inslee to lift restriction on basketball. Currently, basketball in normal form is listed as a maximum contact sport. In order for maximum contact sports to resume, the King County cases per 100,000 people must be less than 50 for 14 consecutive days. You can monitor that number here.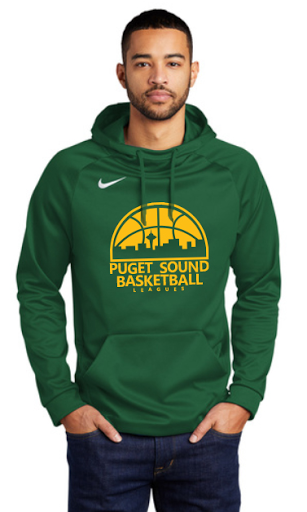 **FREE DELIVERY ON SWEATSHIRTS PURCHASED IN JANUARY**
Need a high quality, super comfortable sweatshirt? These are Nike DriFit Therma fabric and have an old-school PSBL design with Seattle hoops colors. They practically hug you when you wear them. High Quality/ Great Fit. Buy yours here.
Finally, please support local small businesses, wash your hands, and wear a mask. PSBL will be back!!
**Free Delivery is only for Seattle Metro area. Select "Schedule Pick-up with Tim when purchasing" and we will make arrangements to deliver in person. (He NEEDS to get out of his house and gladly delivers)